Eight years after they opened Les 4 Coins du Vin, the owners wanted to improve the customer experience and to set up a survey to know more about customer habits regarding wine (purchase, taste, consumption…). 
Regarding the customer experience in the wine bar, the question was: 
How can we improve it to stand out from the other wine bars? 
About the survey, the main questions were:
Who are the customers? How do they purchase and consume wine outside of Les 4 coins du Vin?
Improving the customer tasting experience when they come to Les 4 Coins du Vin. Designing a new purchase experience when customers want to buy a bottle of wine to drink outside of the bar.
• 
Project planning (project definition, UX-research)
• 
Exploration (observation, exploratory survey, user recruitment, interviews)
• 
Ideation (persona, design sprint, user validation, user stories)
• 
Generation (wireframes, art direction, prototype, mockups)
• 
Evaluation (success criteria, evaluation process, observation, Mobile App Usability)
• 
Implementation of UX and UI methodologies
• 
Designing interviews, surveys, user recruitment, writing reports, organizing meetings and the       design sprint
• 
Designing user experience and app architecture 
• 
Designing wireframes and mockups
•
Whimsical
•
Adobe XD
•
Adobe Illustrator
•
Adobe Photoshop
After having defined the whole mission with Les 4 Coins du Vin founders, Kobayashi started to research information about wine bars and wine consumption and purchase data about this topic. Luckily, the mission was in Bordeaux, so there was an abundance of studies and surveys around these topics.​​​​​​​
To better understand the customer tasting experience, and with the owners' agreement, I set up an exploration phase with three different methods :
•
Observation
•
Exploratory survey
•
Interviews   
• Observation
(shadowing method - 30 customers observed)
In Les 4 Coins du Vin, two friends go to the wine dispensing machine to get some white wine. There are eight different bottles. The two friends do not know any of these wines and would like a short presentation of each. After a few minutes of waiting, a sommelier joins them and presents the wines to them one after the other. Once the presentation of the wines is finished, the sommelier goes away to serve and advise other customers. The two young friends remain in front of the wine machine. They hesitate and recognize that they are a bit lost in this flow of information. Finally, they both pour themselves a drink and return to sit down. In the two hours, they stayed in Les 4 Coins du Vin, they tasted four different glasses of wine, both red and white. Before leaving, we asked them if there was a particular wine they preferred. The two agreed but were unable to remember its name. Their only certainty is that it was a glass of white wine.
•
30% didn't remember any wine
•
50% didn't remember any wine but took a picture of bottle label
•
20% could remember a specific wine
Type of questionnaire: Google form
Number of completed questionnaires: 110 questionnaires were sent to people who liked Les 4 Coins du Vin facebook page.
•
7% of customers did not like either, the concept, the atmosphere, or the wine selection.
•
93% of customers enjoy either, the concept,
the atmosphere, and the wine selection.
•
4% noted it in their phone (Notes).
•
1% admitted they didn't remember.
•
59% of people took a picture of the label.
•
27% said they remembered.
•
9% used a wine app.
•
6% buy at a wine bar.
•
12% buy from a producer, in fair or on internet.
•
55% buy at a wine shop.
•
23% buy at the supermarket.
•
13% of Bordeaux customers come once a month.
•
87% of Bordeaux customers come several times a month.
Questions issued following the analysis of the results of the exploratory questionnaire:
• Why does Les 4 Coins du Vin team think that customers do not remember a wine tasting when they say they have a memory system ?
• Do customers buy bottles they have tasted in Les 4 Coins du Vin ?
• Do they find them in a supermarket or in a wine shop ?
• And above all, why don't they buy their bottles of wine in Les 4 Coins du Vin, where they tasted the wine initially ?
User recruitment: people who live in Bordeaux and who usually go to Les 4 Coins du Vin.
Type of interview: semi-directive
Profile of target users sought for interviews
• Men and women who regularly come to Les 4 Coins du Vin.
• Not working in the wine sector.
• Who photograph the labels or write down the references and who declare that they remember a wine.
• Who buy bottles of wine from a wine merchant or the supermarket.
Number of interviews: 15
84%
of people - who initially replied that they took a photo of the label, or wrote it down on their phone - admitted that they deleted these photographs and notes in the days or weeks that followed.
80%
of people who said they remember, acknowledged that they no longer remember the wines tasted beyond a week.
89%
of people say they don't buy a bottle of wine in Les 4 Coins du Vin because they don't want to bother with a bottle of wine when they leave.
67%
of customers declare that the purchase of a bottle of wine is mainly for a specific occasion (meal, party, birthday).  
82%
of customers try to find and buy commercially a bottle they have tasted in Les 4 Coins du Vin.
56%
of customers who cannot find the bottle in question say that buying a bottle of wine becomes difficult. The fear of being wrong, of choosing the wrong wine, or not to their liking are the main reasons.
95%
of respondents recognize that they would agree to buy wine from Les 4 Coins du Vin if there were no time and geographic constraints.
The reasons given are:
• The certainty of finding a bottle that they have tasted and therefore loved.
• The quality of service and advice from sommeliers.
The apparent paradox that tasting wine in one place and buying it in another is confirmed.
Why?
The reasons given are temporal and geographic. In summary, the purchase of a bottle of wine is mainly made during the day or at the end of the day, at times when Les 4 Coins du Vin are closed. As for the geographic aspect, although located in the bustling center of Bordeaux, customers come from different parts of the city, and they declare that they do not wish to go specifically to the bar during the day to buy a bottle of wine.
The exploration phase allowed us to better understand customer tasting experience and customer wine purchase and consumption, but also problems inherent to these learnings. We then started the ideation phase to define a solution to solve these problems.
Through the exploration phase, I was able to define personas. Then I organized a design sprint with Les 4 Coins du Vin team to design solutions that would be later validated by users. Once this validation, I was able to define user stories.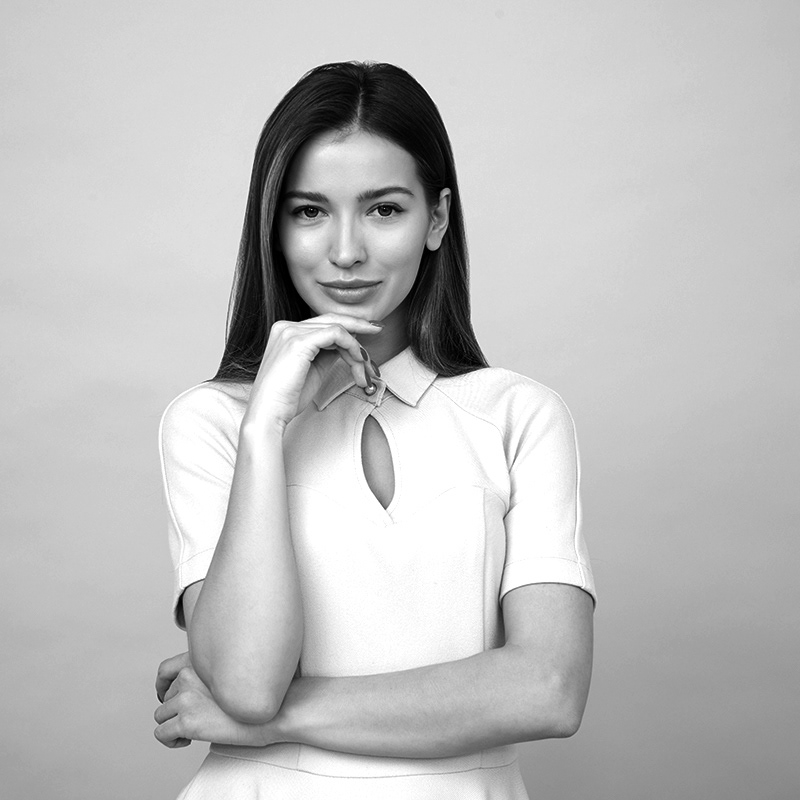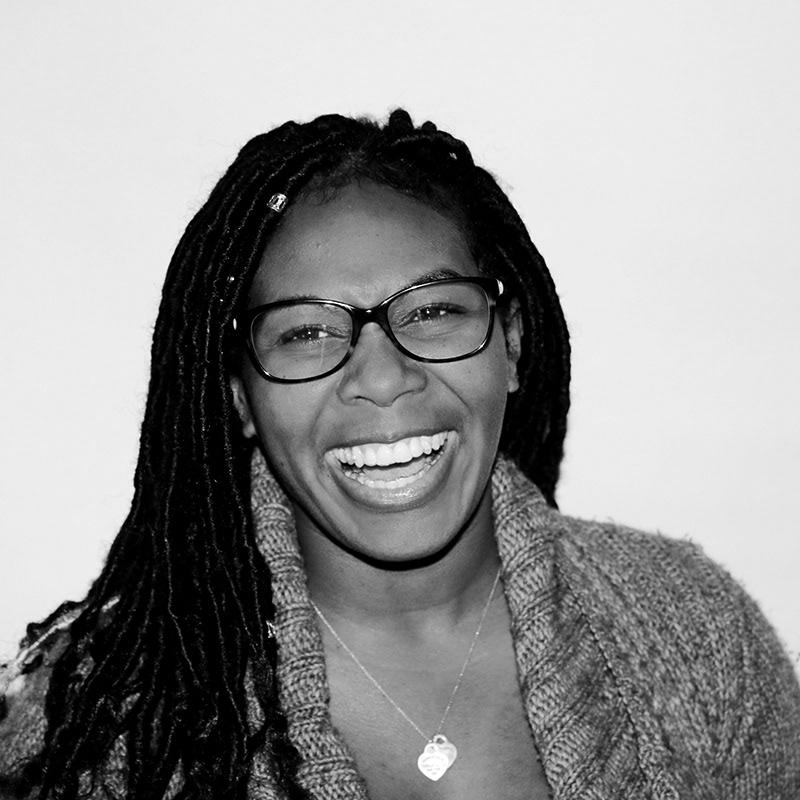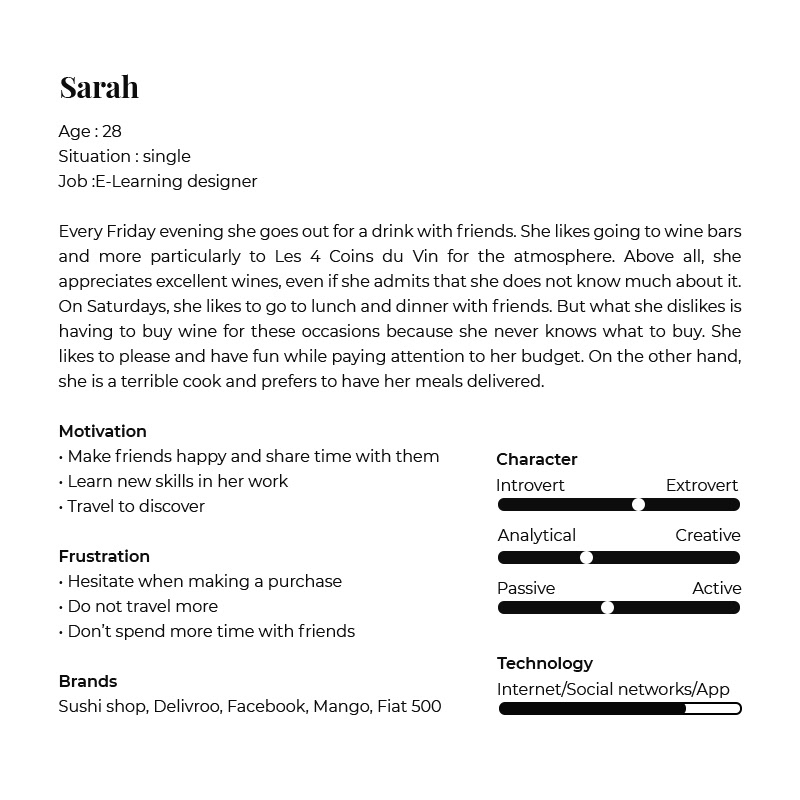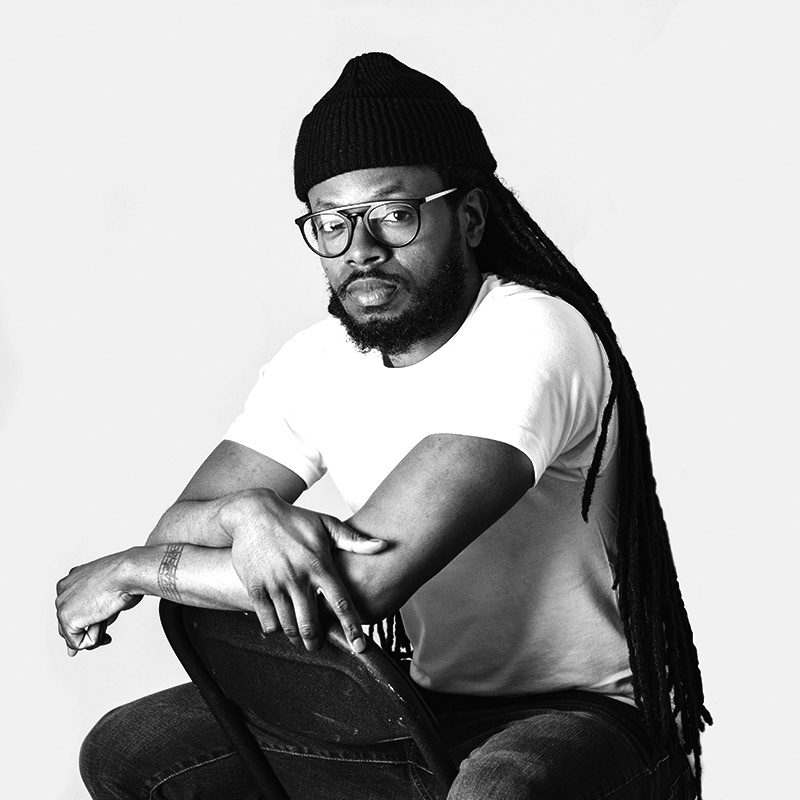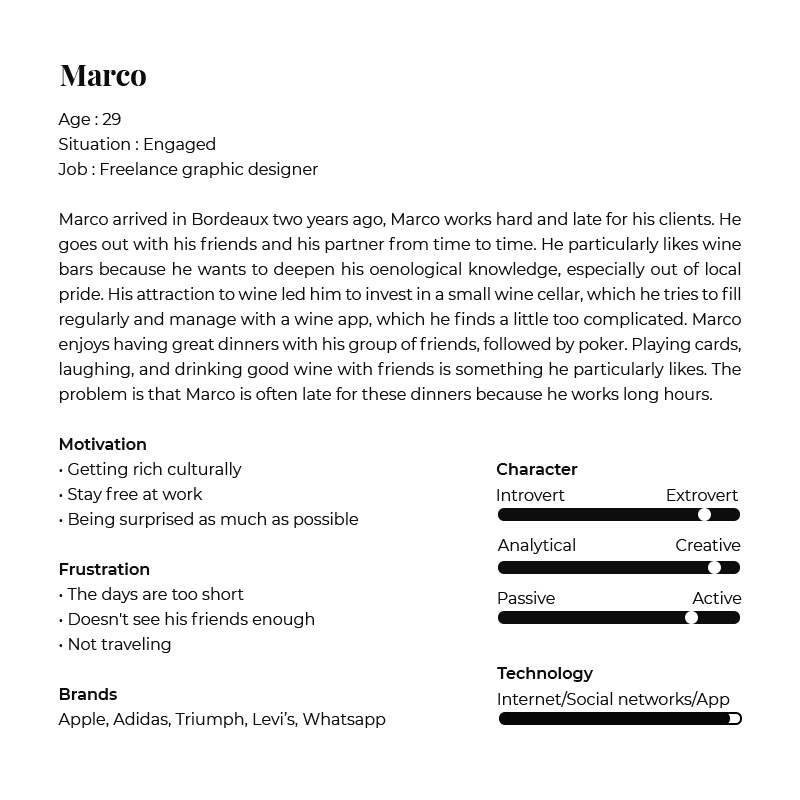 • Kobayashi Design
• The founders and managers of Les 4 Coins du Vin
• The sommelier and waiter team
3 days
Design sprint conclusions
Creation of an app that allows users to easily remember the wines tasted and to help purchase bottles of wine, which would then be delivered. Design of a paper prototype according to the following hypothetical scenario: scan the label, wine sheet, favorite, order.
Validation method implemented = focus group
Number of focus groups = 4 x 6 target users
•  Step 1: discussion around general wine apps
•  Step 2: presentation of the app's paper prototype
•  Step 3 (optional - if validation of step 2): sorting of cards
Step 1: discussion around general wine app
53%
declare not having a wine app
60%
of these 53% declare that they do not have an interest in having one
"Too many possible actions"
"Does not meet expectations"
"I prefer to chat with sommeliers and cellars"
Step 2: presentation of the app's paper prototype
I - While the members of the focus groups were skeptical when we tackled the question of the wine app, we talked about creating an app for Les 4 Coins du Vin.
First there was reluctance:
"What about personal data ? "
II - Then, we presented them with the paper prototype inspired by the benchmark carried out upstream. While handling the prototype, the members of the focus group began to project themselves and ask questions about it. After a few minutes, the feedback was completely different from the start.
"Finishes making mistakes by choosing a wine"
"We will finally be sure of the wine that we buy"
The fact that there are only two main actions possible (memorize and buy) was a real plus. But above all, the idea of getting a wine already tasted and delivered home was what attracted the focus group members the most. Their enthusiasm even led to proposals for this app. 
Among them:
•  Adding a concise opinion of a specific sommelier from Les 4 Coins du Vin.
•  Introducing food and wine pairings.
•  Suggesting practical information for serving wine.
•  Reducing the number of description details to the essential.
Step 3: open card sorting
This allowed us to define the information architecture of the app and to sketch user stories applicable to this architecture.
Wine color, price, basket, 
food and wine pairings, short description
Label scan, aromas, appellation, wine color, 
price, food and wine pairings
​​​​​​​
With the personas, design sprint, and user validation, I was able to define user stories.  
As a customer I want to register a wine I just tasted and liked, and being able to order it later when I need or want it to get it delivered, so I don't have to go to the supermarket or to the wine shop. I won't be afraid of choosing a lousy wine anymore.
• I don't want to worry anymore about choosing a wine for an event because I know I can order one I already tasted and liked.
• Saving time.
As a customer at Les 4 Coins du Vin, I don't want to wait for a busy sommelier being available to advise me a glass of wine so that I can get a drink faster and not being confused by all technical information sometimes given by sommeliers.
• Saving time.
• Having infos and advice written by sommeliers of Les 4 Coins du vin.
Now we have user stories, we can generate :
• User flow
• Wireframes
• Mockups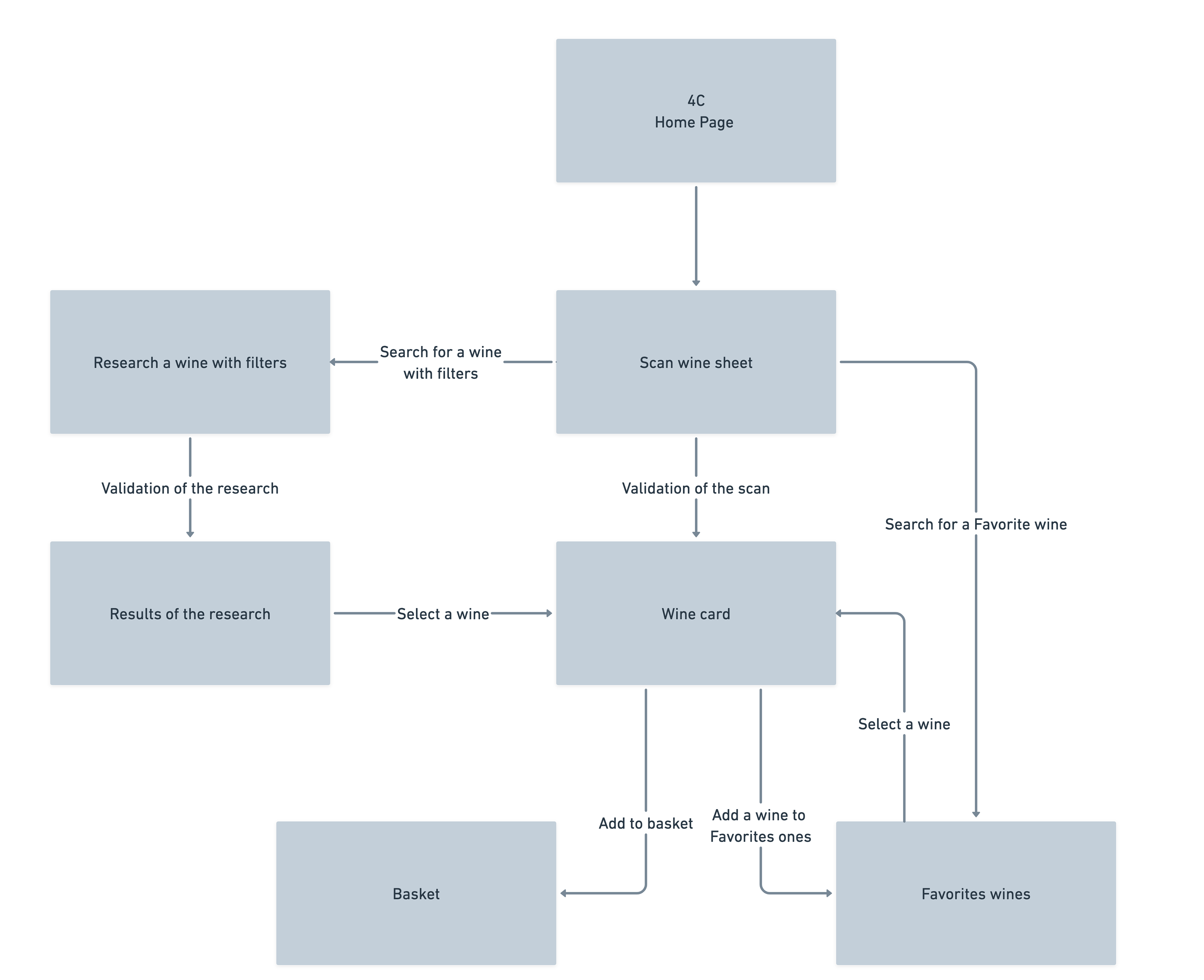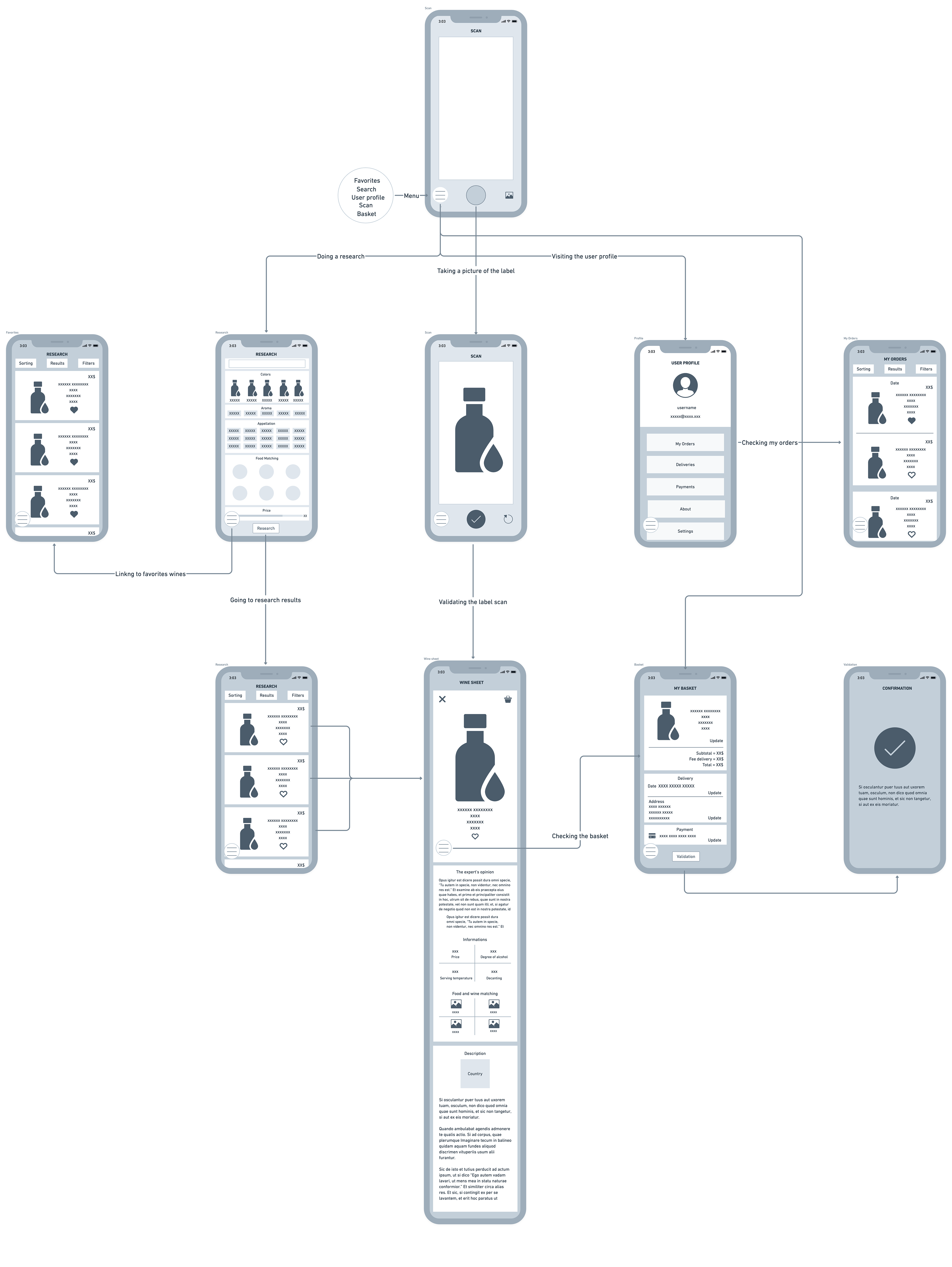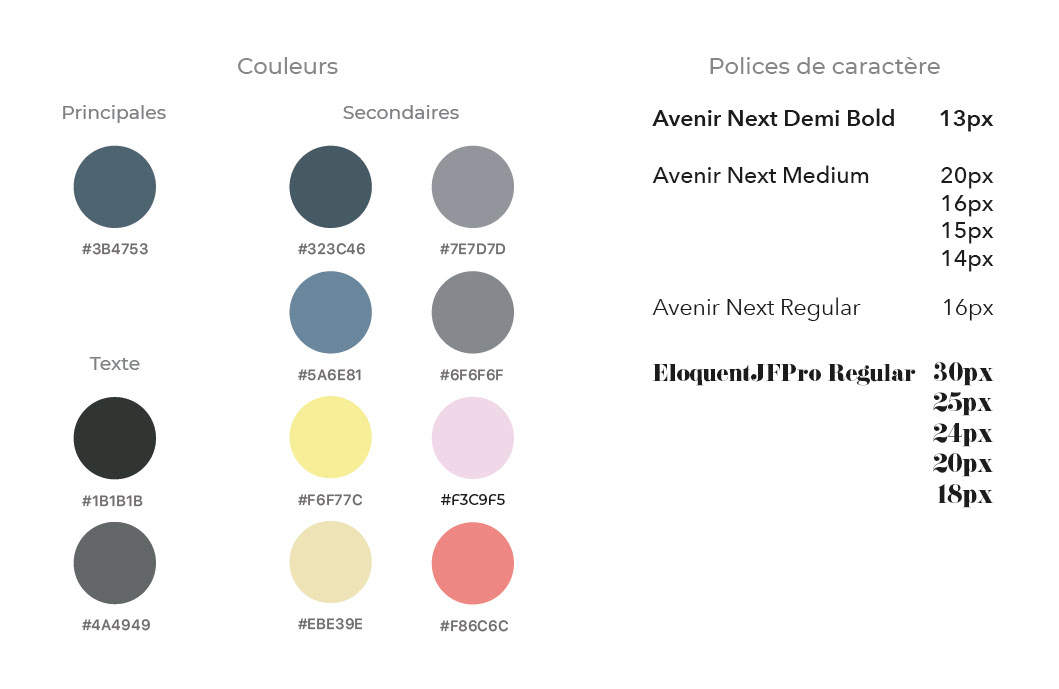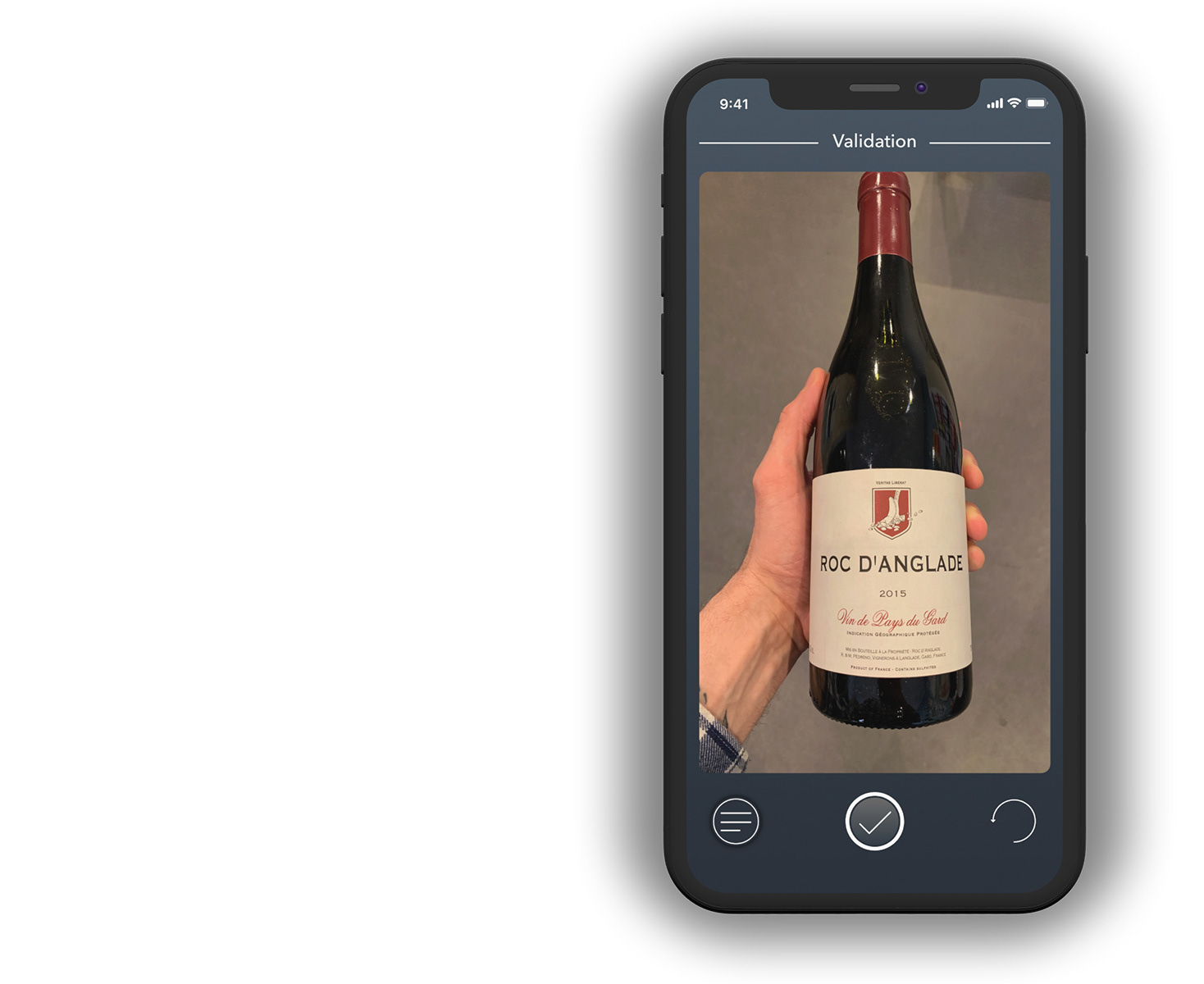 Scanning a bottle of wine or doing a research from menu
Having informations about the wine, like food and wine pairing, 

alcohol, estate, preservation, aging, wineyard... 
The user can
like the wine or order it like clicking on the basket icon.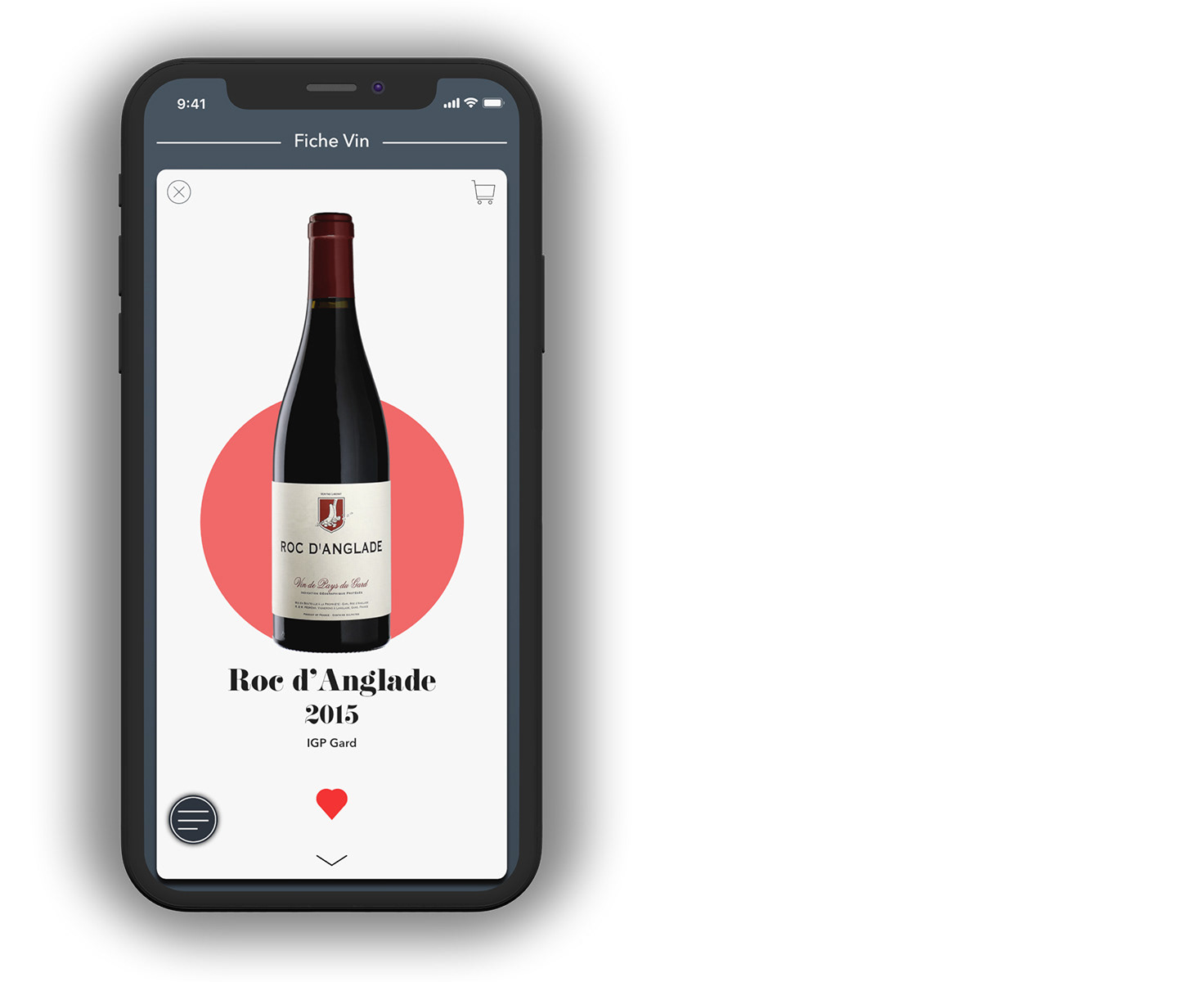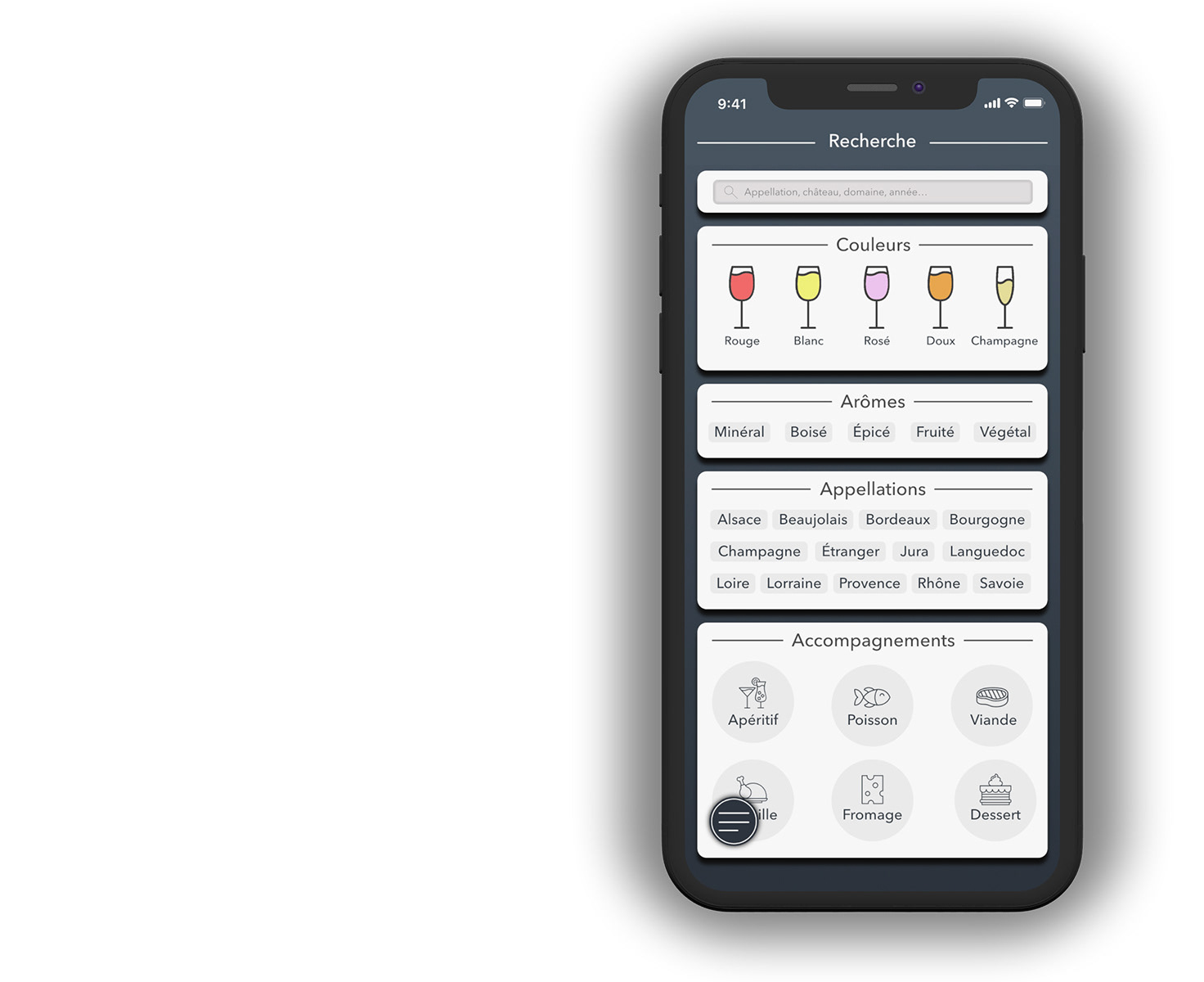 All the criteria to search to get the relevant wine selection ever. 
A list a wine selected from the criteria given filled by the user.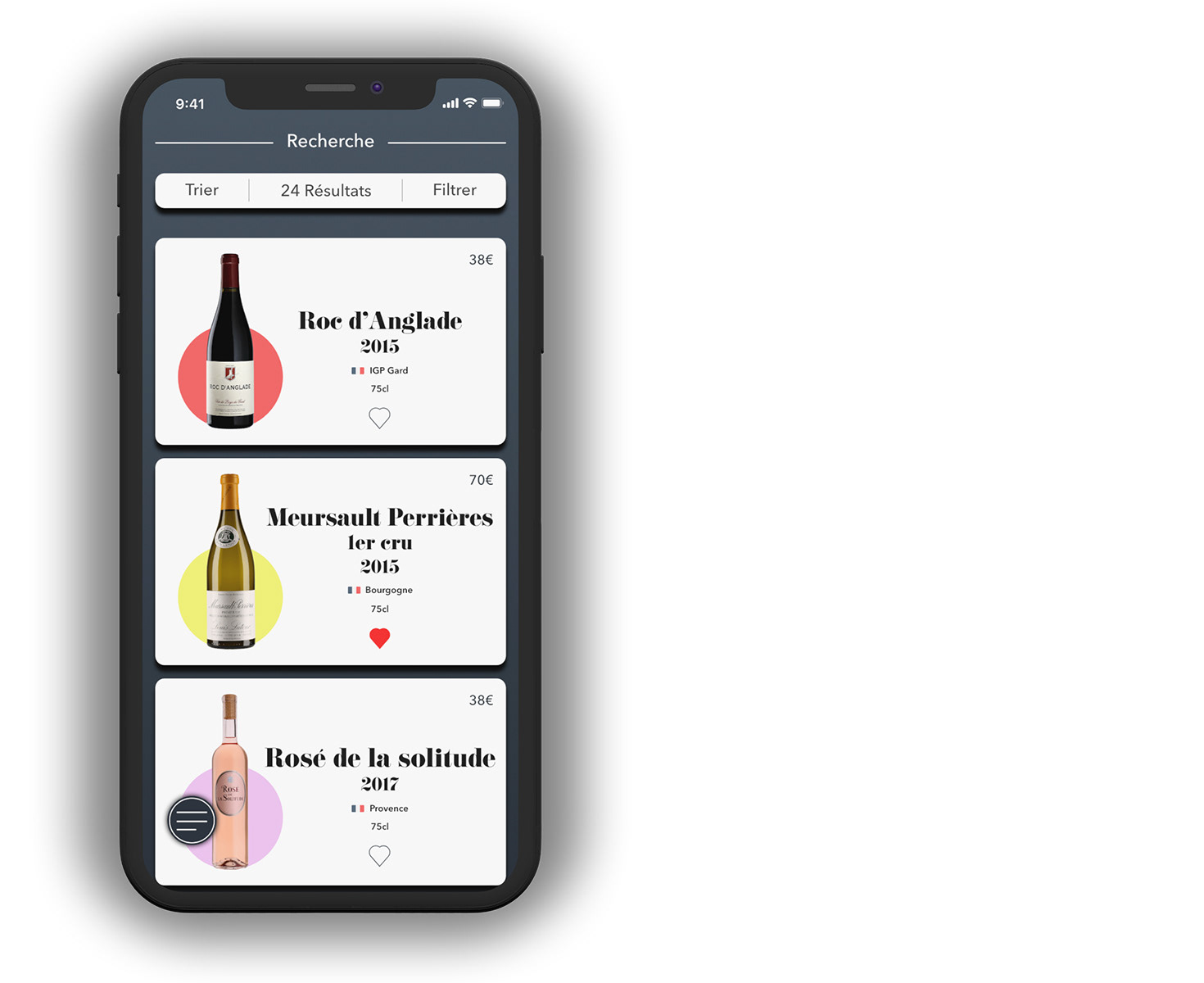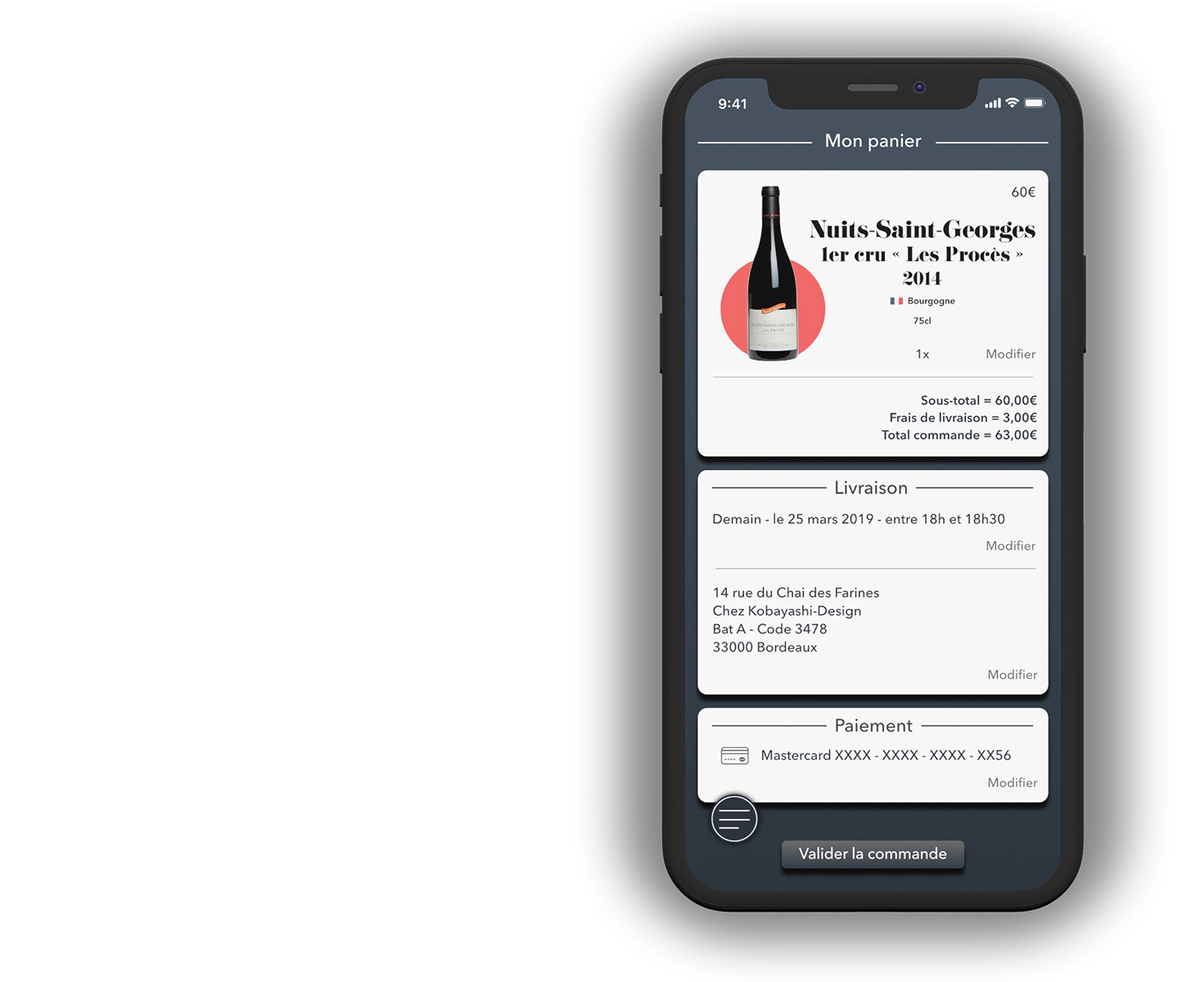 An order summary with only the necessary informations.
A history of user orders.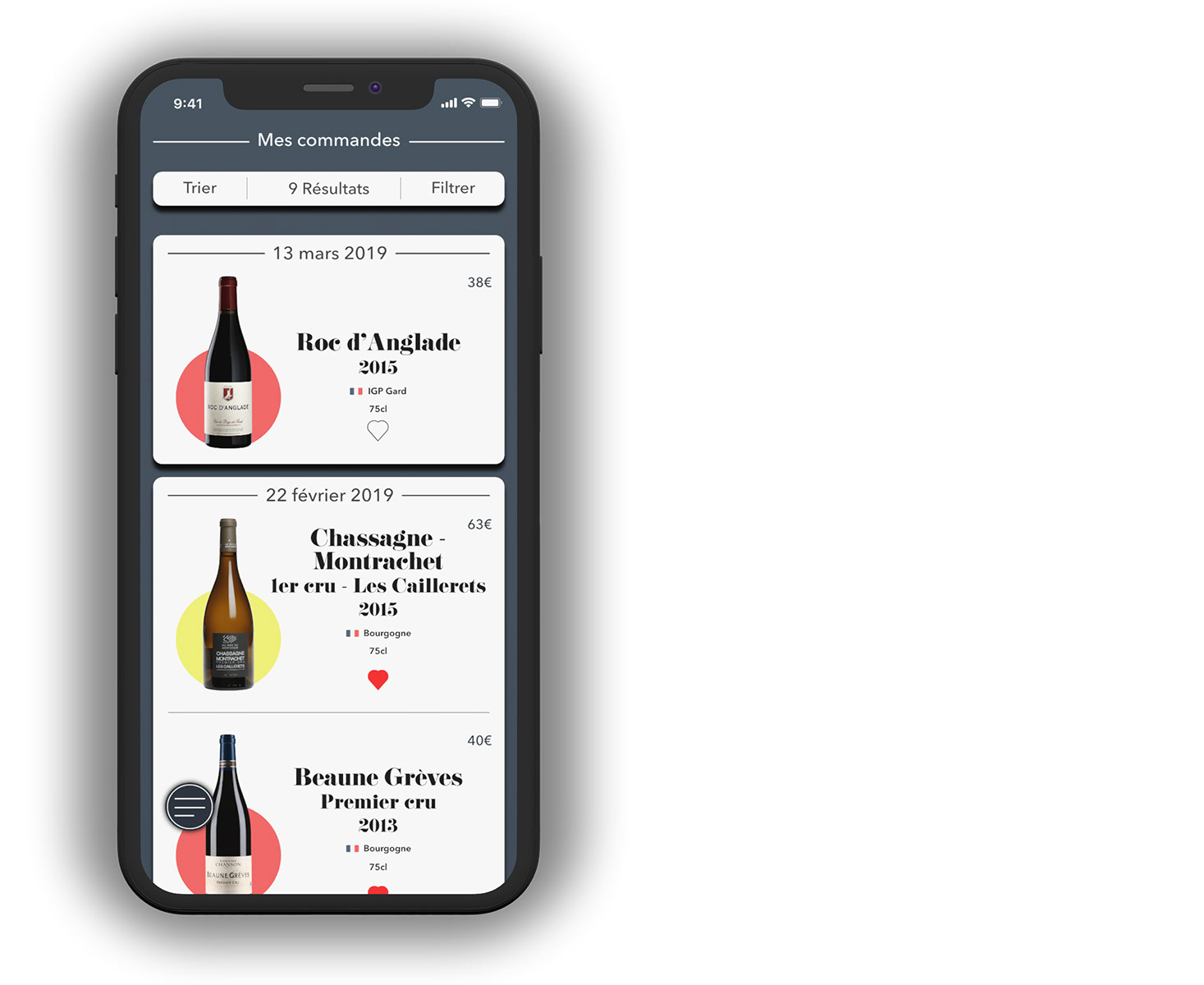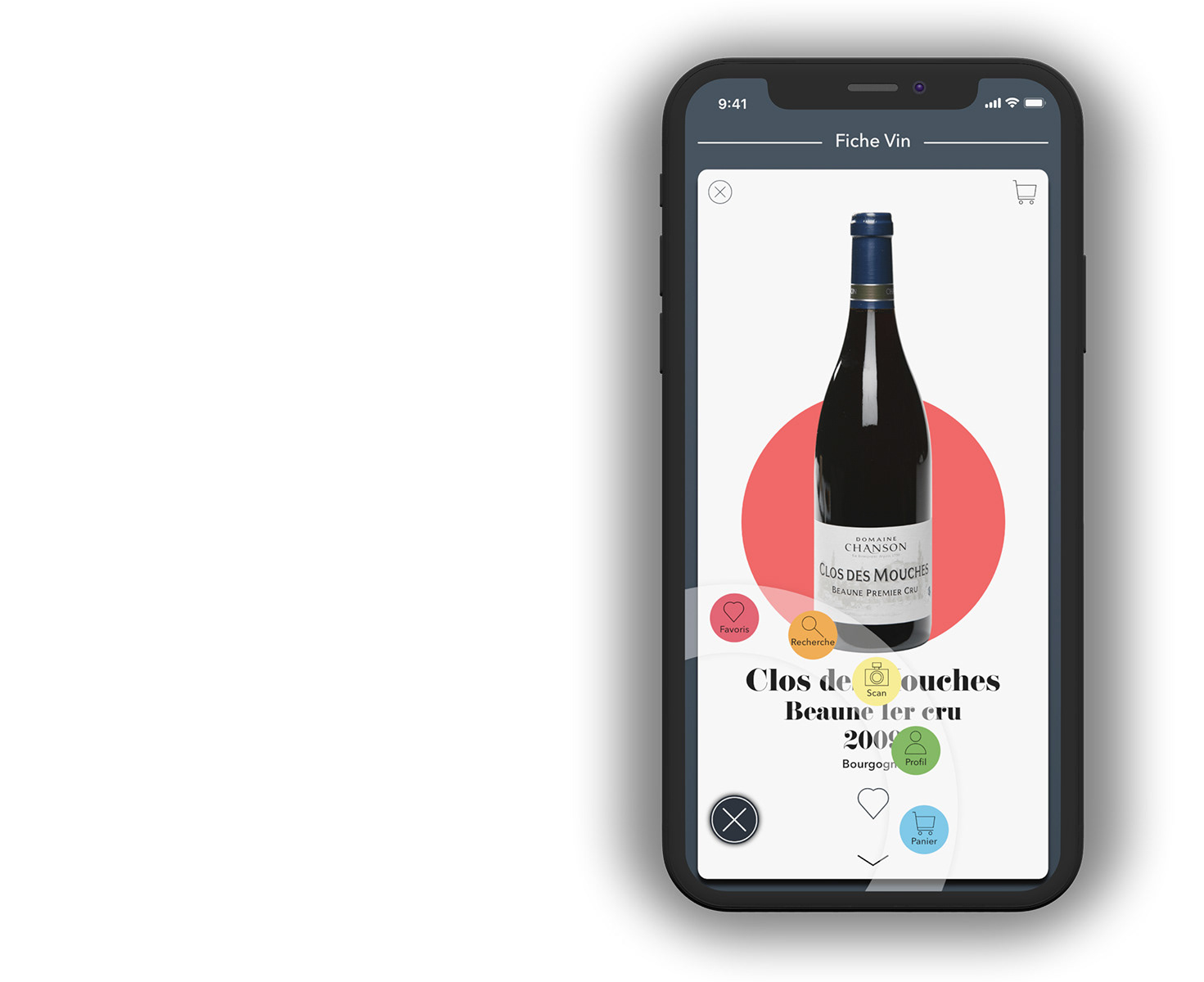 The user can find all informations about his/her orders,
his her deliveries, payment informations, about and settings.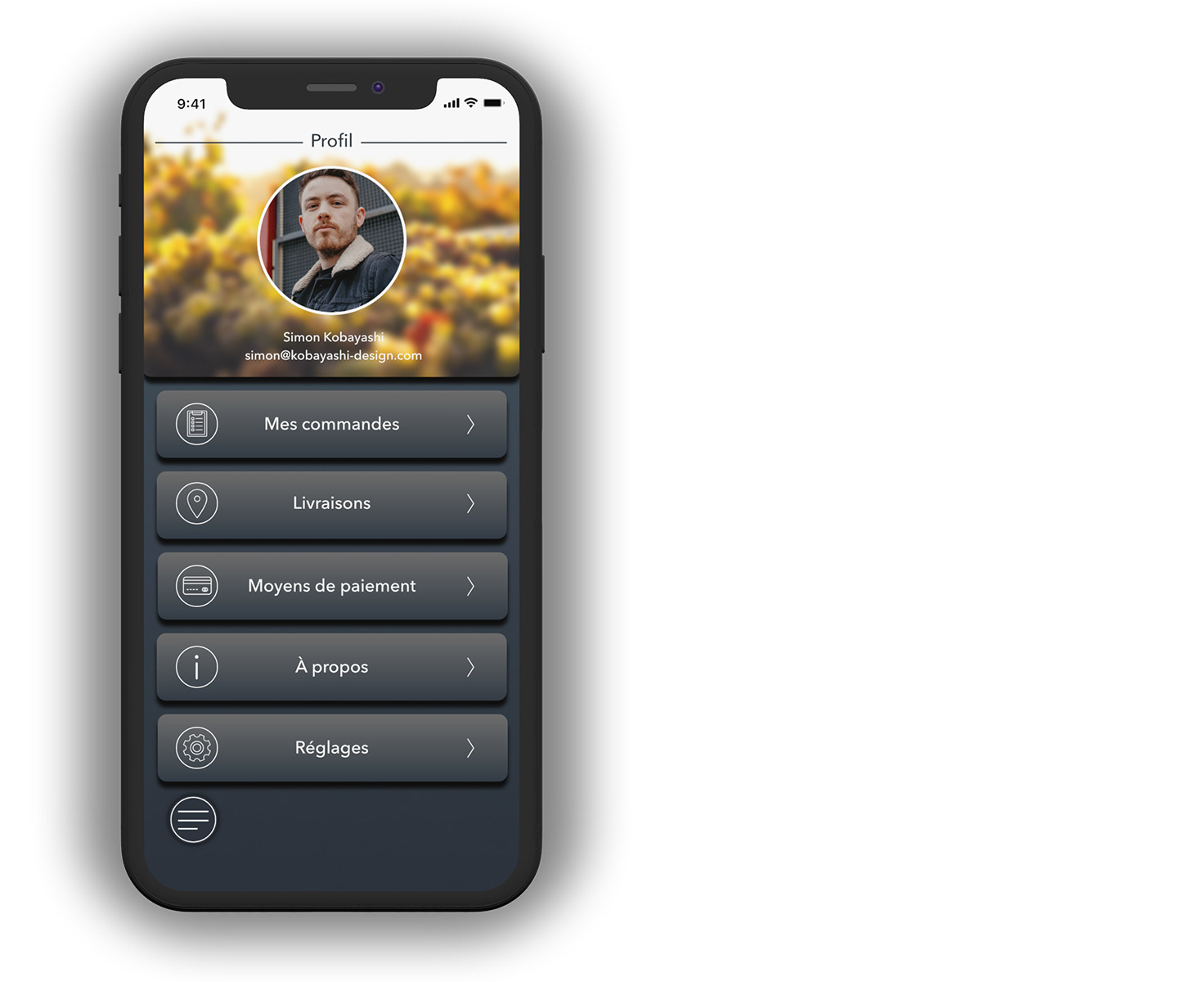 Once the prototype was finalized, we showed it to users to get their feedback and to understand if they would accept to use this new app to improve their tasting experience and to purchase a bottle of wine. 
The managers considered that if 85% of the participants accepted without hesitation to change their purchasing behavior, then the investment in the development of the app could be justified.
Evaluation process
(passation)
Number of participants: 25 (12 men and 13 women - 25 -38 years old)
•  Observation
•  Usability scale (Mobile App Usability)
•  UX scales (meCUE questionnaire)
•  Face-to-face interview at Les 4 Coins du vin
From a design point of view, the app was a real success. Participants loved it, especially the chosen colors and fonts. They also appreciated the clarity and simplicity of the app
From a usability point of view, the participants greatly favored the usage of an app. Even if they found the circular menu in the lower-left hand corner surprising, rather than a classic toolbar, they loved its appearance and disappearance. They also quickly found the relevant headings that we decided to add. They found its usage simple, the information on the wine sheets transparent, and the navigation precise.
The results of the meCUE questionnaire were excellent since 90% of the participants gave a score of 4 on a scale of 5 on the overall evaluation of the app.
Finally, the complete analysis of the evaluations revealed that 87% of the participants were ready to use the app and change their purchasing behavior.
However, these results needed to be qualified and correlated with those of the interviews. Of the 8 participants in the last stage of the evaluation, all of them validated the memorization action that the app-enabled. Some people appreciated the fact that this app would make it easier for them to choose a wine since they would no longer have to go to a store to buy wine. Finally, the 8 participants found the possibility of having wine delivered during the day very practical.
Reluctance was put forward by 4 participants. Although they underlined that the app proved to be very useful for memorizing and buying wine, helping with last minute purchases and preventing mistakes often related when repurchasing, they put forward several arguments.

They found that buying only through Les 4 coins du Vin app, presumed that they should drink exclusively at this wine bar.
The app looked like a « Deliveroo of wine », and their objections pointed to the fact that Deliveroo offers a wide choice of restaurants, thus their users have the choice between several points of sale.

And finally, the participants privileged the face to face exchange with a wine shop owner or employee, or with a sommelier when buying wine. They felt that buying a bottle of wine is not the same as buying other consumer goods.
At the time of writing this conclusion, the management of Les 4 Coins is actively seeking funding to launch the project.

Kobayashi Design thanks the managers and founders, and the whole team from Les 4 Coins du Vin, the users, and the participants for their confidence and their availability for this research.
.
What they think about Kobayashi
" The audit carried out by Kobayashi Design showed that we could still improve the tasting experience for our customers while developing new growth drivers. " 
Benjamin Bouet, Founder and CEO Les 4 Coins du vin